September 7, 2016
Goodreads Update 9/6/16
I just realized I've added 25 books to my TBR since my last update. I better do another one now, or my end of September update will be hella long.
Neurotribes: The Legacy of Autism and the future of Neurodiversity by Steve Silberman - I heard a review of this on a podcast a couple of weeks ago, so I put it on my list. I suspect at least one of my kids is on the Autism spectrum, so I'm interested in learning about it. Luckily, I found the paperback at Barnes and Noble the day I had a 40% off coupon.

The Crown Tower by Michael J. Sullivan - I have heard many gushy reviews about his series on YouTube. So I added it to my list.

The Lies of Locke Lamora by Scott Lynch - I started this book a year or so ago on audio. I didn't have a lot of time to listen at that time and I had to take it back to the library. It was entertaining, so I thought I might do better with a print copy.

The Blade Itself by Joe Abercrombie - Mike really likes this series and owns his own nice copies of it.

Patient H.M.: A Story of Memory, Madness, and Family Secrets by Luke Dittrich - Harking back to my psychology student days, I added this book about lobotomy and the after effects of those surgeries.

The Hour of Land: A Personal Topography of America's National Parks by Terry Tempest Williams - Another casualty of the book podcasts, I added this one after listening to the BookRiot ladies gush about it several times.

Negroland: A Memoir by Margo Jefferson - I have recently discovered an interest in race relations. This is about the author's upbringing in a very tony black neighborhood in Chicago.

Code Talker: The First And Only Book by One of the Original Navajo Code Talkers of WWII by Chester Nez - I read a teen fiction book about the code talkers a few years ago. Maybe even about this person. I am still interested in the story.

Commonwealth by Ann Patchett - I'm not actually sure what this is about, but it's Ann Patchett. C'mon. Of course it will be on my list.

Shirley Jackson: A Rather Haunted Life by Ruth Franklin - Her stories completely freak me out. I'm hoping that her actual like if less terrifying.

Razor Girl by Carl Hiaasen - His books are riotously funny if you go in for ridiculous madcap hilarity. I do, so it works for me.

The Chemist by Stephenie Meyer - I have some reservations about this. It's by the author of Twilight, which I am conflicted about my love for. I didn't like the book she wrote that was not Twilight. The jury is still out.

A Natural History of Dragons by Marie Brennan - This is a novel about Lady Trent who is the pre-eminent Victorian dragon naturalist. These are ostensibly her journals.

The World Between Two Covers: Reading the Globe by Ann Morgan - It's a book about books. What is there to explain?

The Dream of the Great American Novel by Lawrence Buell - Hopefully this is a book about books.

A Reader on Reading by Alberto Manguel - I think I tried to read this once before. But I'm willing to give it another shot. Books!

Improbably Libraries: A Visual Journey to the World's Most Unusual Libraries by Alex Johnson - I hope there are lots of pictures!

Hit Lit: Cracking the Code of the Twentieth Century's Biggest Bestsellers by James W. Hall - Woo Hoo! Books and statistics! Awesome.

A Life With Books by Julian Barnes - A reading memoir by Julian Barnes? Squee!!!

By the Book: Writers on Literature and the Literary Life From the New York Times Book Review by Pamela Paul - This section is my absolute favorite part of the NYTBR. Authors answer basically the same questions. "What's on your nightstand." etc.

The Western Lit Survival Kit: An Irreverent Guide to the Classics, from Homer to Faulkner by Sandra Newman - Irreverent you say? Well, sign me up!

Most Dangerous: Daniel Ellsburg and the Secret History of the Vietnam War by Steve Sheinkin - As I was typing this, I was trying to figure out why I added it to my list. Then I got to the author. Steve Sheinkin can even get me to read about the Vietnam War.

Mademoiselle Chanel by C.W. Gortner - This is a novelization of the life of CoCo Chanel. I'm here for that.

White Trash: the 400-Year Untold History of Class in America by Nancy Isenberg - Along with the race question, class discrimination = interesting.

The Only Pirate at the Party by Lindsay Stirling - She is the rock and roll violinist that we like to watch sometimes. This is her memoir.

When Hitler Took Cocaine, and Stalin Lost His Brain: History's Unknown Chapters by Giles Milton - My friend liked it. So we'll see.

The Rogue Not Taken by Sarah MacLean - A bunch of folk have said this is a great romance read. It definitely has a ridiculous cover. We'll see what happens.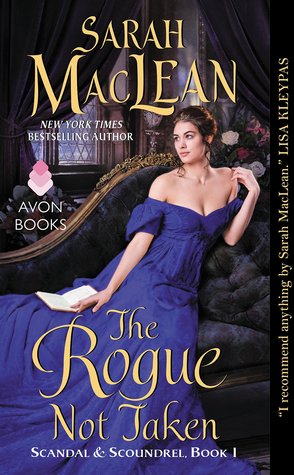 See what I mean?
Anyway, that's what's new on my TBR. I think I need an intervention. No, I take that back. I don't. I'm fine. Everything's fine!