October 7, 2016
Glory O'Brien's History of the Future by A.S. King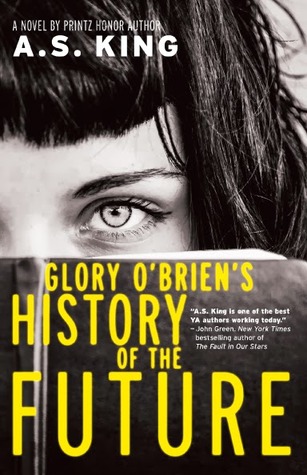 A.S. King is a favorite author of many teens. Her books seem to get right to the heart of what teens are feeling. Well, maybe a certain segment of the population. The outcasts. The loners. The weirdos. Also, she is coming to Tulsa at the end of October and I'm going to see her speak, so I figured I should read one of her books.
At the beginning of the book, Glory (short for Gloria) is 17 years old. Her mother committed suicide when she was 4 and no one will talk about it. Her dad is a hermit who provides online computer help in his pajamas. Her only friend is Ellie, the daughter of the hippies who have a commune across the street. 2 days before graduation, she and Ellie mix the ashes of a dead bat with some beer. The next morning, Glory finds that when she looks at people, she can see the actions of their ancestors and/or their descendants. It is disconcerting to say the least.
Through the course of the book, Glory uses what she sees to give her life some focus. She changes her mind about what she wants to do with he life. She changes her mind about how she feels about her friend. She changes her mind about her mother's death. She really comes into herself. And she finally sees her own future.
This book is definitely strange, but I can see how teens (girls especially) would really relate to the feelings and questions raised. Why aren't I normal? Who am I? What am I going to do next?
I really like Glory. She was independent, but still unsure of herself. Her not being able to take the next step really made her relatable. Come for the bat drinking. Stay for the visions of the future.
8 bookmarks.