February 27, 2017
Goodreads Update 2/27/17
Time to update you on what is happening on my Goodreads account. Since I don't have time to read for fun, of course I'm adding books like crazy to my To-Be-Read shelf on Goodreads. And it looks like this month there was a bunch!
Writing My Wrongs by Shaka Sengor - This is by a man who went to prison in 1991 for shooting a man while dealing drugs in Detroit (alliteration anyone?). He has served his sentence and has processed the life that set him up to pull that trigger.
Crack: Vol. 1 by Shaka Sengor - This is a graphic novel by the guy who wrote the above. It's about a homicide detective in Detroit who has to solve the murder of a childhood friend.
Call of the Undertow by Linda Cracknell - I can't remember where I ran across this or why I thought I might like it, but the cover is beautiful. It is set in the wilds of Scotland. What could go wrong?
Dear Mr. Knightley by Katherine Reay - Sam was raised in the foster system, and somehow managed to go to college. Then an anonymous benefactor offered to send her to graduate school if she will write him letters. Hence, Dear Mr. Knightley.
My Brilliant Friend by Elena Ferrante - This is the first in a four-volume series translated from the Italian. Ferrante is a pen name, and the stories are about female friendship throughout the lives of the two main characters.
Victoria by Daisy Goodwin - This was recently made into a TV series. Since I have exactly zero time for watching TV, I decided to add the book to my list. Also, the cover is gorgeous.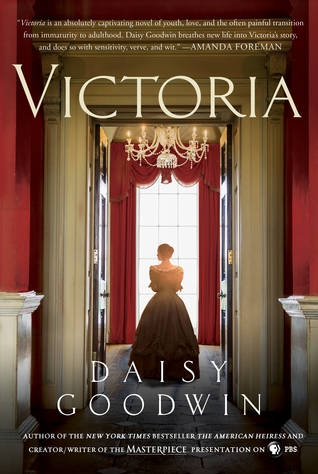 The Women in the Castle by Jessica Shattuck - It was slow at work one Saturday, and I discovered BookBub Blog. There are many on this list from that site. I might have gone a little overboard. This book is set at the end of WWII and a war widow whose husband was murdered in a failed attempt to kill Hitler goes around collecting the families of the other men who died with her husband.
In the Name of The Family by Sarah Dunant - This is a fiction novel about the Borgias and Nicolo Macchiavelli.
The Other Einstein by Marie Benedict - I got this one from a giveaway at my library. It is about Albert's arguably even more brilliant wife.
Pachinko by Min Jin Lee - I have heard this one raved about by the ladies at Book Riot. I almost ordered it as my Book of the Month pick. This is historical fiction set in Korea at the beginning of the twentieth century. A young girl gets pregnant out of wedlock, and is rescued by a missionary who marries her and takes her to Japan.
Gay Pride and Prejudice by Kate Christie - It's basically the story of Pride and Prejudice but with so many gay characters.
The Reader by Traci Chee - This triggered my radar when it came out last year. Now it's on next year's Sequoyah award nominee list, so it just jumped back onto my list.
Up to This Pointe by Jennifer Longo - This is a YA about dancers. But I think it's only marginally about dancers. Something about Antarctica? I'm not sure. But it's a Sequoyah nominee, so I put it on the list.
The Female of the Species by Mindy McGinnis - Alex is a murderer. She tries not to let her darker nature take over, but one night at a party stuff gets real. More Sequoyah goodness.
And I Darken by Kiersten White - What is it about YA and orphans? Anyway, this one is set during the Ottoman Empire. Sequoyah nominee, again.
The Sun is Also a Star by Nicola Yoon - Natasha is about to go to college when she finds out her family is living in the U.S. illegally and they are about to be deported to Jamaica. Daniel is a good boy, but he's drawn to Natasha. Romance, universe, blah blah blah. Sequoyah nominee, and it's gotten great BookTube reviews, so we'll see.
History is All You Left Me by Adam Silvera - Theo left Griffin behind to go to college in California. Then he died in a drowning accident. Griffin goes to California to collect the pieces of Theo's life and finds out he had another boyfriend. DRAMA! Another one that has good BookTube hype.
Caraval by Stephanie Garber - Scarlett and her sister Tella live on a tiny island with their cruel father, when he decides to marry her off, Scarlett and Tella run away to Caraval. Again, what could go wrong?
Hunted by Megan Spooner - Only Beauty's father has ever gotten close to finding out what the Beast in the forest is up to. When her father goes missing in the forest, Beauty goes after the Beast.
A Study in Charlotte and The Last of August by Brittany Cavallaro - I never got around to reading the first one, and now the second is out. This is a modern-day gender-flipped version of Sherlock Holmes.
The Most Dangerous Place on Earth by Lindsey Lee Johnson - Will anyone be shocked to learn that the most dangerous place on earth is a high class high school? This has gotten some buzz on the interwebs.
The Possessions by Sara Flannery Murphy - This is the one I actually ordered as my Book of the Month Book. This is about Eurydice who is a medium. She channels the dea for their living relatives. Then she falls in love with a man visiting her to speak with his dead wife.
The Hate U Give by Angie Thomas - This is about a girl from the ghetto who goes to a fancy prep school. The precarious balance of her two worlds is shattered when she witnesses the shooting of a childhood friend by police.
The Bookshop on the Corner by Jenny Colgan - Self-proclaimed literary match-maker Nina loses her job at the library, so she opens a bookshop. There's also something about a bookmobile, but really this book had me at bookshop.
I'm Judging You: The Do-Better Manual by Luvvie Ajayi - Apparently this is another case of a blogger who got a book deal. If it's as good as Jenny Lawson's books, I'm all in.
So that's it. I really need to stay off Goodreads. And BookBub and BuzzfeedBooks. Oy!