November 24, 2017
Friday Reads 11/24/17
Hooray!!! I might actually get to read this weekend!!!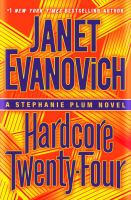 Hardcore Twenty-Four by Janet Evanovich - Pretty excited about this. I've read about 90 pages of this already and it features a runaway boa constrictor and zombies.
The Making of Jane Austen by Devoney Looser - I started this, but I only got about 10 pages into it, so I don't really have any idea what it's about anymore.
These two books in my possession mean I have a chance at getting my November TBR read this month!
What will you be reading this weekend?