July 24, 2018
Mid-Year Book Freak Out
This is a tag that goes around on YouTube every year about this time, so I'll do it here.
Best book you've read so far this year - I'm gonna have to go with Long Way Down by Jason Reynolds. It's a novel in verse about a teen boy who is determined to go shoot the boy he thinks killed his brother yesterday. On the elevator on the way down to do the deed, he meets some ghosts; all victims of gun violence. It's fabulous!
Favorite sequel of this year - That's gonna have to be Gemina by Amie Kaufman and Jay Kristoff. It's the only sequel I read this year that wasn't a graphic novel.
A new release you haven't read, but really want to - There are actually a lot of those. My Goodreads TBR is full of them. But for this question I'm going to go with Neverworld Wake by Marisha Pessl. I love her books, and this is a departure for her as it's a YA novel about a bunch of kids for whom time stops and they have to figure out how to get it going again.
Most anticipated release for the rest of the year - The only one I'm waiting not-so-patiently for is Look Alive Twenty-Five by Janet Evanovich. I keep reading this series as each one comes out. Some of them are better than others. But they are all light and fluffy and fun.
Your biggest disappointment this year - I haven't read any truly terrible books this year so far, but I think I am going to say Vengeance Road by Erin Bowman. I had expected it to be more fast-paced and exciting than it was. It took me months to read it.
Biggest Surprise of the year - That would be the July book club pick, Allegedly by Tiffany D. Jackson - The member who picked it said it stayed with her for months after she read it. As I was reading it, I was thinking, "Yeah, this is pretty crazy stuff." But the last chapter twisted so hard that I was just speechless. Now I truly understand why she can't stop thinking about it.
Favorite new-to-you or debut author - I'm gonna go with Caraval by Stephanie Garber. This is frequently mentioned as a comp for The Night Circus by Erin Morgenstern, which I love. I had my doubts when I read it, but I have to say it was definitely a close comparison. The stories are different, but the circus is eerily similar.
Your new fictional crush - I do not think I have read any crush-worthy heroes this year. I just have the old fictional crushes.
New favorite character - That would probably have to be Babe Paley from The Swans of Fifth Avenue by Melanie Benjamin. Now, I realize Baby Paley is not a fictional character, she was an actual, real-life person. But I like her character in this book.
A book that made you cry - Happy people read and drink coffee by Agnes Marin-Lugand. I cried multiple times while reading this book. Considering that the word "happy" is in the title, you'd think it would be a happy book. It is not.
A book that made you happy - Reading always makes me happy, so pretty much any book I read this year made me happy, but I'm gonna go with Dot Journaling I get so happy looking at paper planners and bullet journals. This was just a super happy book for me.
Your favorite book-to-movie adaptation you've seen this year - HAhahahahahahahahaha!!! I haven't seen any movies in over a year. I want to see the Murder on the Orient Express adaptation, tho. What else is there?
The most beautiful book you've bought this year - Oh man. That is a difficult proposition. I've bought a lot of books this year. A LOT. --- After perusing my shelves for a few minutes, I landed on this one: The Seven Husbands of Evelyn Hugo by Taylor Jenkins Reid.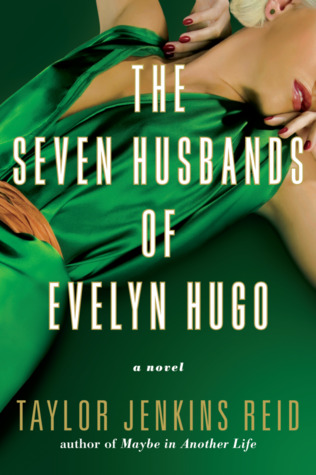 Books you NEED to read by the end of the year - Since I am no longer required to read books for school, the only books I NEED to read this year are book club books. But I do have a few I'd really like to get to soon: I'll Be Gone in the Dark by Michelle McNamara, Educated: a Memoir by Tara Westover, Lizzy and Jane by Katherine Reay, and The Gentleman's Guide to Vice and Virtue by Mackenzie Lee.
And that's it! Do you have answers to any of these questions? How about what is the best book you've read this year?