April 26, 2019
Goodreads Update April 2019
I have been trying very hard not to add excessively to my TBR list on Goodreads since I am not making much headway on it, and don't expect to for a few years. However, I do keep finding books I need to read. The list is actually shorter than past updates, so... win?
When the Sky Fell On Splendor by Emily Henry - This was sent to me to read for consideration for the award I'm working on. I don't think it's got great reviews, but it sounds really fun. Five years after an explosion at the steel mill affected every family in Splendor, Ohio, Franny's brother is still in a coma. She and her friends divert their attention from tragedy by investigating local ghost stories for their YouTube channel. Then, one night, they film an alien landing.
The Starless Sea by Erin Morgenstern - I have known about this book for a couple of months, just never thought to put it on my list. It comes out the day before my birthday, so happy birthday to me! The description of the plot is confusing, but basically it's about a guy who finds a book. He starts reading it and reads a story from his own childhood. He ends up in an underground library and then stuff gets weird.
Murder By the Book: A Sensational Chapter in Victorian Crime by Claire Harman - This is about a real murder that happened in 1840. A man was murdered in his bed. When the killer confessed, he said he did it because of a popular crime novel. This situation fascinated the literary giants of the day.
The Five: The Untold Lives of the Women Killed By Jack the Ripper by Hallie Rubenhold - We have all been told all our lives that Jack the Ripper killed prostitutes. It turns out that that was not the case. The women were all poor and in other ways disenfranchised, but they were not prostitutes. This book focuses on the victims instead of the murderer for the first time.
The Dead Duke, His Secret Wife, and the Missing Corpse: An Extraordinary Edwardian Case of Deception and Intrigue by Piu Marie Eatwell - A woman in 1897 believed that her father-in-law was also the 5th Duke of Portland and had faked his death as a commoner and that her son should be the heir to the dukedom. She had his body exhumed to prove it. I appear to have gone through a phase of Victorian non-fiction.
The Making of a Manager: What to Do When Everyone Looks to You by Julie Zhuo - I keep hoping that I will one day be a manager. I mean, I don't really want to manage, but I would like the paycheck. This is a new book on the subject.
Reader, I Married Him: Stories Inspired by Jane Eyre edited by Tracy Chevalier - I believe this is one my sister alerted me to. How could I resist such a thing? Reader, I couldn't.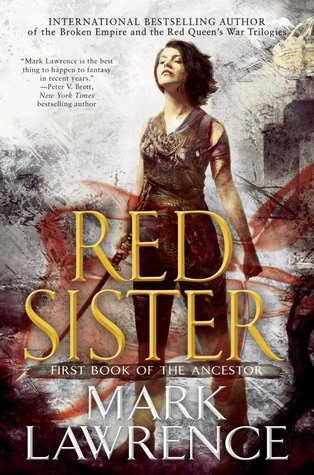 Red Sister by Mark Lawrence - This is the first in a fantasy series that is raved about by many on BookTube. It's about a convent that trains girls to be killers.
That's what is new on my list this month. What's new on yours?