June 3, 2019
May 2019 Wrap Up
This should be interesting. I feel like I barely read anything in May.
On the TBR this month:
If Beale Street Could Talk by James Baldwin - I managed to finish the book club book. Yay! This book was kind of heart breaking. Our main character and narrator is a 19 year old girl, Tish, whose boyfriend, Fonny, is in jail. He was set up for a crime he didn't commit by a white police officer. This officer was involved when her boyfriend got in a fight with a white man who was sexually harrassing Tish in a store. The cop wanted to arrest Fonny, but the white woman who owns the store stood up for him. The cop got revenge by setting him up. Also, Tish is pregnant.
Birthday by Meredith Russo - Nope. Unfortunately I didn't get this book until last Thursday, so I didn't have time to read it. But I have it now! I'm exited. It's about two boys who are friends and share a birthday, I think. They grow apart and back together, and I think the book tells where they are on each birthday.
Works Well With Others by Ross McCammon - Read! This book meets the Read Harder Challenge to read a business book. This is basically about business etiquette. The author moved from Dallas to NYC to work for Esquire magazine. He learned a lot real fast about what is expected. But of course, no one ever says these things out loud. You just have to learn. So he laid it all out in this book. It was funny, too which helps.
Sherwood by Megan Spooner - Read! I loved this. Loved it. I finished it one morning during Memorial Day weekend. I closed the cover, picked up the book, and hugged it. The premise of the book is that Robin of Locksley died in the Crusades. His intended, Marian, put on his cloak and rode out to help Will Scarlet, her maid's brother. Will mistook her for Robin and it just blew up from there. It was just so, so good. Guy of Gisborne is trying to rise in the class system, and is planning to be awarded Locksley manor after Robin's death. He also wants to marry Marian. He is pretty squicky and makes Marian's masquerade more difficult.
Sky Without Stars by Jessica Brody and Joanne Rendell - Half? This book is huge! Huge I tell you! So I read half of it. Chatine is a fret rat on the planet Laterre, which humans moved to after the end of Earth. The frets are where the mass peasantry live, also known as the third estate. Marcellus is an officer of the ministere, and grandson of the general. Allouette is a girl raised in a cave under the ground made up of nuns who protect items from Earth that were brought with the humans. The first estate is the kind and queen. Marcellus' father and governess were defecteurs (a.k.a. traitors) and sent to Bastille which is the planet's moon. When I finish it in June I will try to give you a plot summary.
I read a couple of books that weren't on my list, as usual, so here they are.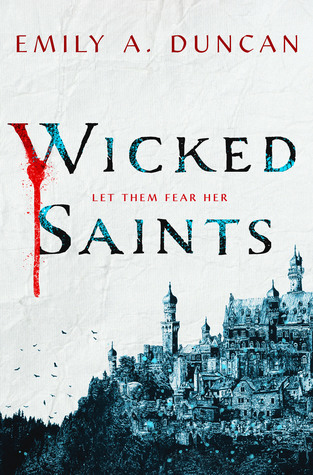 Wicked Saints by Emily A. Duncan - This is a YA fantasy that is set in a land that resembles Eastern Europe. Most of the names were Russian sounding. Nadya is a cleric in the country that starts with a K. This means she can speak to the gods and they give her magical power. Serefin the prince and general of the army of the country that starts with a T. He attacks Nadya's monastery and she has to flee. She meets Malachiasz and some friends. He is from the country that starts with a T, but is kind of a traitor because he is against the war between the two countries. Nadya and Malachiasz team up to go into K-Country to kill the crazy king and stop the war. It was really good.
Spin by Lamar Giles - DJ Parsec, an up and coming teenage DJ, is found murdered at the location of her warehouse party by her two best friends, who incidentally don't like each other. The psychotic fan base of the DJ kidnap the two girls and force them to find out who killed the object of their fanaticism. They find out, and it is a fascinating trip.
So that's what I read. 5 and a half books. Not my best, but in my defense, it was a busy month.
What did you get read in May?